Met Halloween in't verschiet, lijkt het me wel leuk om deze nog eens op te delen 🙂 
Witchke behoort tot 1 van de allereerste ietwat mooiere ontwerpen van mezelf 🙂 (al zeg ik het zelf)
Zij kroop uit mijn naald begin 2018 🙂 
Het is eenvoudig te haken en het is mooi in eender welke kleur 🙂 
Veel plezier er mee 🙂 
xxx Patricia
De winterprinses is reeds op tijd om naar het winterbal te gaan. Ze moet alleen nog even wachten want eerst moet de zomer en de herfst nog voorbij komen 🙂 
Jullie kunnen alvast eraan beginnen 🙂
xxx Patricia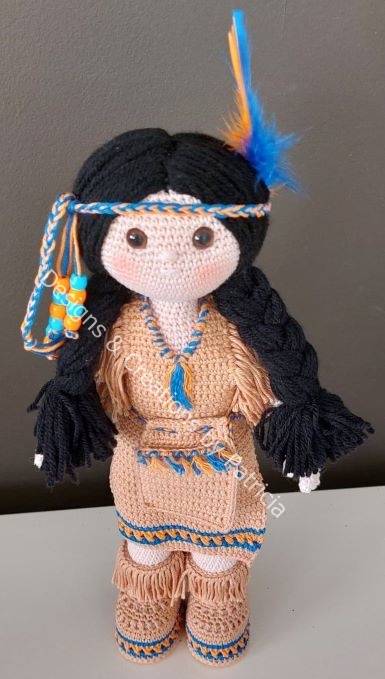 Mijn nieuwe ontwerp 🙂 Er werd me regelmatig gevraagd om een Indiaantje of een cowboy te ontwerpen. 
Aan het ene verzoek heb ik alvast voldaan 🙂 Weldra komt het patroon hier als gratis download te staan. 🙂
Nog even geduld hebben is de boodschap 🙂 En wie weet volgt er ook nog een cowboy dan.
xxx Patricia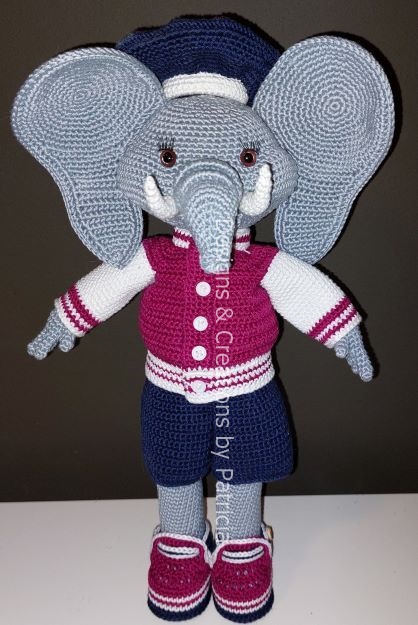 Olly & Lolly zijn mijn nieuwe patronen 🙂  Samen maken ze veel plezier en gaan vaak op stap met de muizen Knabbel en Babbel.
Jan 20., 2022 /
Amigurumi
,
Blog
,
Designs
,
Dieren
,
Divers
,
Fantasie
,
Gratis Patronen / Free patterns
,
Interieur
,
Patronen
,
Poppen
In de zomer breng ik de tijd door op de camping 🙂 Het is er heerlijk vertoeven en dat vinden de bijen ook.
Daar kwam ik op het idee om een lieve bij/wesp te ontwerpen. 
Bij het zoeken naar een gepaste naam voor haar, kwam ik op het idee om er een dubbele betekenis aan te geven. 🙂 
Bee = bij en Happy = blij
Zoals de Amerikanen altijd zeggen: "Be Happy" 🙂 
Een betekenis die blijdschap brengt en ook passelijk is als naam. Zo weten jullie hoe ik de naam gekozen heb. Wel in overleg met mijn super testteam natuurlijk.
Geniet van Bee Happy 🙂 
xxx Patricia
Kerst is pas voorbij en het nieuwe jaar gaat van start 🙂 en ik denk alvast aan Pasen 🙂 🙂 🙂  Dat moeten we vieren met een extra cadeautje 🙂 
Beste wensen voor 2022!!
Veel plezier met "Bunny"
xxx Patricia
Christmas is just over and the new year is starting 🙂 and I'm already thinking about Easter 🙂 🙂 🙂  So let's  celebrate with an extra present 🙂  Best wishes for 2022!! Have fun with "Bunny" xxx Patricia
Vandaag is de lente van start gegaan en wat is er dan mooier dan wandelen gaan met de baby. 🙂
Veel plezier met het haken van mama met baby in kinderwagen. 🙂 
xxx Patricia
Vandaag is Valentijn en dat vieren we met het patroon van "Paaskip Lotje". Zo kunnen jullie alvast beginnen voor Pasen 🙂 
Veel plezier met haar 🙂
xxx Patricia
Wie graag nog wat te doen heeft in deze wintermaanden, kan alvast het zonnetje in huis halen met Floortje. 🙂 
Veel plezier er mee 🙂
xxx Patricia
Allereerst wens ik jullie een spetterend, vreugdevol, gelukkig en vooral gezond 2021!!!!
En wat is er mooier dan op de eerste dag van het jaar meteen een cadeautje uit te delen. 🙂 
Veel plezier met het haken van het Elfje.
xxx Patricia
- PAGE 1 OF 5 -

×